For all The Breakfast Club fans out there get ready to feel old because this classic coming-of-age film just had it's 30th Anniversary of it's initial release date. Technically the famous five had their fictional Saturday detention exactly 31 years ago today, but we've only been able to cherish the film for thirty. As a result of this big milestone, Cineplex's Front Row Centre Events has chosen to bring this classic film back to the big screen TOMORROW WEDNESDAY MARCH 25TH!!
If you don't already know about this film shame on you, but I accept that The Breakfast Club is an 80s film so my generation may not have stumbled upon it's magic. John Hughes, my favourite director of all-time, created a simple concept of having five high-school students from different cliques come together at a Saturday detention. Regardless of what they did to wrong or their socio-economic background, they quickly realize that they all share the same struggles with their family and friends, as well as their worries about what the future holds.
I quote this film on a regular basis, therefore I have included a full Top 10 because I couldn't include just one or two of my favourites. And yes, Judd Nelson as John "The Criminal" Bender is 100% my favourite character.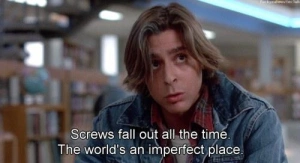 1) "Screws fall out all of the time, the world is an imperfect place."
2) "Why does Andrew get to get up? If he gets up, we'll all get up! It'll be anarchy!"
3) "Don't you want to hear my excuse?" "Out!" "I'm thinkin' of tryin' out for a scholarship."
4) "That's very clever, sir. But what if there's a fire? I think violating fire codes and endangering the lives of children would be unwise at this juncture in your career, sir."
5) "My office is right across that hall. Any monkey business is ill-advised. Any questions?" "Yeah, I have a question. Does Barry Manilow know that you raid his wardrobe?"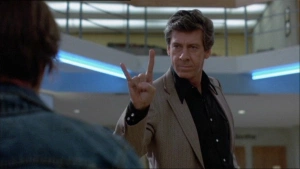 6) "You'll get the answer to that question, Mr. Bender, next Saturday. Don't mess with the bull, young man. You'll get the horns."
7) "Well I'm free the Saturday after that. Beyond that, I'm going to have to check my calendar."
8) "Uh, Dick? Excuse me; Rich. Will milk be made available to us?"
9) "We're all pretty bizarre. Some of us are just better at hiding it, that's all."
10) "Well, Brian, this a very nutritious lunch. All the food groups are represented. Did your mom marry Mr. Rogers?" … "Uh, no, Mr. Johnson."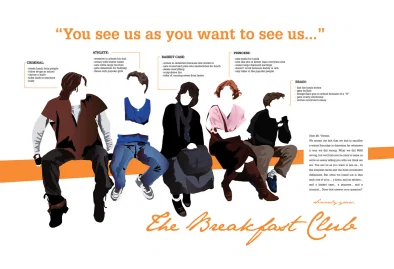 If you are in love with this film as much I am you should definitely check out the articles below. The first is "22 Things You Might Not Know About The Breakfast Club", which was a fun and quick read. The second is an interview of Molly Ringwald and Ally Sheedy as they reflect on their careers and this classic film.
http://mentalfloss.com/article/55851/22-things-you-might-not-know-about-breakfast-club
http://variety.com/2015/film/news/the-breakfast-club-30th-anniversary-molly-ringwald-ally-sheedy-interview-1201455515/
Lastly, I cannot emphasize enough that you need to see this film if you have not already. It is in my opinion the greatest coming-of-age film of all-time, but if that hasn't convinced you please check out the trailer below!