As mentioned in last weeks' "Tuesday Top 5: Comedies With Female Leads" (see the link below), I have been patiently awaiting the return of the Barden Bellas for Pitch Perfect 2 ever since I saw the hilarious original in 2012. Clearly I was not the only one, as the sequel has overtaken School of Rock and become the highest grossing music comedy film of all-time. Also Elizabeth Banks, who plays the hilarious role of announcer Gail Abernathy in both films, took on the role of Director in the sequel and I think she did an excellent job.
http://cinematiccrashcourse.com/2015/05/19/tuesday-top-5-comedies-with-female-leads/
Pitch Perfect 2 begins with a gloriously sung introduction by John (John Michael Higgins) and Gail, who are back as the hilarious pair of a cappella commentators. Along with their on-going outrageous banter, the duo states that the Barden Bellas are now three-time A Cappella Collegiate Champions. Senior Beca Mitchell (Anna Kendrick) is shown leading the rest of the Barden Bellas in a performance for President Obama's birthday at the legendary Lincoln Center. For shock & awe half-way through their set, Amy (Rebel Wilson) swings in from the ceiling on silk sheets to sing "Wrecking Ball". However, she unfortunately has a wardrobe malfunction that ruins the event, and consequently shames the Barden Bella name across the country.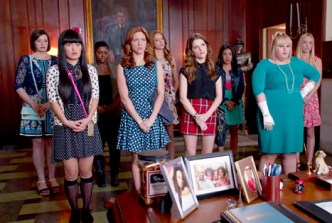 As a result of their disastrous Lincoln Center performance, the Bellas are suspended from all a cappella showcases and competitions. Beca argues that they should be reinstated if they win the A Cappella World Championship, which John & Gail agree to. However, they can't stop laughing at her request as no American team has ever won the world title. The girls are upset and Chloe (Brittany Snow) is clearly shaken by the news, but Beca is conflicted because she is about to secretly start an internship at a recording studio.
The story-line jumps to a few months after they are initially suspended, but the Bellas are still not allowed to hold auditions. However, this does not stop freshman and 'Bella Legacy' Emily Junk (Hailee Steinfeld) from showing up at their front door to audition. After accepting Emily, the girls decide to refocus their energy on Worlds by checking out their main competition the German front-runners Das Sound Machine. DSM is a large, acrobatic, and impressive team fronted by Pieter Kramer (Flula Borg) and Kommissar (Birgitte Sorensen) an extremely talented and equally stunning duo.
The rest of the film involves a mix of ups and downs as the Bellas try to find their sound as well as figure out what's next for their future. The banter between Amy and Bumper (Adam DeVine) was just as hilarious, if not better than the original. Also, the girly part of myself loved that Beca and Jesse (Skylar Astin) stayed together throughout college, and was in love with the awkwardly adorable conversations between Benji (Ben Platt) and Emily. I personally feel that the musical numbers are better in the original, but Pitch Perfect 2 was amazing in a different way because it had me laughing non-stop.
I thought Pitch Perfect 2 was everything a sequel needed to be and more, so I don't want to give away anymore of the major plot lines. Therefore, instead I'm going to point out a couple of the things that completed the film for me:
One of the best a cappella groups out there, Pentatonix, was featured as the Canadian group at Worlds and they were excellent.
The 'Cups' a cappella remix around the fire was hands-down my favourite song.
The underground a cappella riff-off was my favourite part, and the Green Bay Packers cameo was hilarious because Clay Matthews heading up the Destiny's Child classic "Bootylicious" was gold!
Lilly's (Hana Mae Lee) quiet and bizarre quotes from the original were perfect, so hers were the most anticipated lines for me personally and they did not disappoint!
I loved all of Beca's attempts at trying to insult Kommissar, but instead always giving her a wonderful compliment.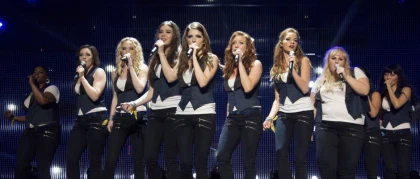 Top 15 Favourite Quotes (Original + Sequel):
So both the original and sequel were full of such witty and hilarious lines that I wanted to include a Top 15, because I couldn't narrow it down to only 10!
1)"This could very well be the greatest conflict between America and Germany in our nation's history!" – John "…Crack a book, John!" – Gail – Pitch Perfect 2
2) "I have a feeling we should kiss. Is that a good feeling or an incorrect feeling?" – Bumper "Well … sometimes I have the feeling I can do crystal meth, but then I think, mmm … better not." – Amy – Pitch Perfect
3) "Well, your sweat smells like cinnamon … Damn It!" – Beca – Pitch Perfect 2
4) "I've just been shot, I'VE JUST BEEN SHOT!! … I'm gonna kill him! I'm gonna finish him like a cheesecake!" – Amy – Pitch Perfect
5) "[Speaking louder than she normally does] I think I have something that could help us." – Lilly "Excuse me bitch, you don't need to shout." – Amy – Pitch Perfect
6) "All my teeth come from different people." – Lilly – Pitch Perfect 2
7) "We will practice, and I trust you will add your own cardio" – Aubrey "Why cardio?" – Beca "Yeah, no don't put me down for cardio!" – Amy – Pitch Perfect
8) "Take a lap!" – Beca's Boss "But, I'm wearing skinny jeans" – Dax "Take a lap! Knees up!" – Beca's Boss – Pitch Perfect 2
9) "The Trebles don't respect us, and if we let them penetrate us, we are giving them our power." – Aubrey "Not a good enough reason to use the word 'penetrate'." – Amy – Pitch Perfect
10) "Say one more hipster thing." – Beca's Boss – Pitch Perfect 2
11) "Oh, so there's no back up dancers? … Crushed it." – Amy – Pitch Perfect
12) "You're Beca Effin' Mitchell! You're the big B.M! You're the most talented person I know. And I've met three of the Wiggles … intimately." – Amy – Pitch Perfect 2
13) "Hello my name is Lilly and I was born with gills like a fish." – Lilly – Pitch Perfect
14) "What are you doing?" – Aubrey "Horizontal running." – Amy – Pitch Perfect
15) "You are one of us, you paid the registration fee." – Amy – Pitch Perfect 2
Bonus: I've included two video extras below that are equally impressive. The first link features Keegan-Michael Key, a.k.a. Beca's Boss, as Barack Obama's anger impersonator, while the second video features the "aca-amazing" Pentatonix singing "Evolution of Music"!